CATERING SERVICES
Question? Did you know that Mustang Pizza and Subs offers drop off catering for business or family events? It's true. We offer the same quality food for your event or special occasion!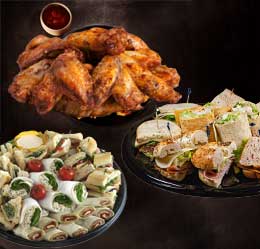 Whether it's a school function, watching your favorite sporting event, last minute company, planned business or family function, Mustang Pizza Catering has you covered.
We can help you with planning your event, as well as menu selection, budget and quantities to accommodate all of your Catering needs.
Email us at Catering@MustangPizza.com, and one of our Event specialist will get right back to you, or feel free to give us a call at 443-463-3325 for assistance with planning your special event, or to place an order.
Menu items and prices may vary by location. Prices are subject to change. 24-48 hours notice on larger orders please. Delivery is available.